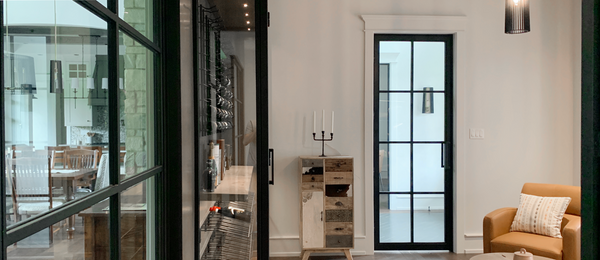 The Perfect Display for Your Dream Wine collection.
Discover the perfect blend of Industrial Elegance and Robust Strength with our Canadian-made Infinity System doors. Customizable and resistant, we proudly serve both Canada and the USA.
Purpose-Built for Wine Cellars
Designed to Maintain Optimal Wine Cellar Conditions.
Infinity System doors, equipped with rubber gaskets and 3/4" Thermo-Glass, offer exceptional thermo and acoustic insulation.
Experience tranquility and minimize noise disruption, creating a serene environment.
Why Choose Our Doors?
Strength & Style Combined:
Our doors seamlessly combine industrial elegance with robust strength. With welded barrel hinges for durability and Holler Door Catches for added security, they feature a sleek matte black powder coating for a stylish look.
Customizable Options:
Tailor your doors with our custom sizing and available side lights. At Infinity System, we create doors that match your unique preferences and requirements.

Our steel doors and sidelights
Have Questions or Ready to Transform Your Wine Cellar?
Our team is here to assist you in selecting the ideal steel door for your wine cellar. Contact us today to start the journey toward enhancing your wine storage space.